It's hard to believe we have been hiking at Great Falls for over a decade. Steve and I started coming to the park in January 2008 – thirteen years ago, crazy. One of the big draws in moving to the exurbs was being closer to this and so many other hiking spots – and while we have enjoyed the bounty of local trails, we've mostly focused on exploring other, less popular, parks near us. But recently the kids asked to go to Great Falls and we were happy to oblige. It's always a delight to hike there, but I guess the park wanted to show us what we've been missing out on while we explored the county parks, because it delivered every element of the Great Falls experience.
Starting with the falls themselves – roaring!
I love watching the falls from the three successive overlooks and could stay there all day. Often in the summer months, there are whitewater kayakers and paddleboarders testing their skills, which is also such fun to watch. And sometimes, we see them in the winter, too…
Get a load of this guy! Hardcore.
I was very relieved to note that, as you can see here, he is wearing a drysuit. It was cold – about thirty degrees. The water must have been absolutely frigid.
After making a few heroic rushes at the whitewater, he let himself be carried downstream into Mather Gorge.
See him way down there? We were impressed, obviously. (I mused to Steve later that while my baseline is wanting to do ALL of the paddlesports, whitewater kayaking is pretty much the bottom of my list of water activities to try, although I do love watching the paddlers in action. I would like to go rafting, though.)
Eventually we tore ourselves away from the view and set off on our hike upriver. I love the trail that winds downriver from this point, but it's very cliffy (that's a word) and we can't trust our two rambunctious, non-listening children to not go tumbling over the side. So we hike upriver, right along the water's edge, instead. I do hope that one of these days I can wander downriver again.
As we headed off on our upriver walk, I spotted a bird flying up to perch in a high branch and trained my camera lens on it. Two ladies walking in the opposite direction stopped and asked me what it was. "I'm not sure," I confessed, "it's backlit. I'm hoping that when I get home I can adjust the exposure and figure it out." We traded guesses – they thought by size that it was a pileated woodpecker, but it wasn't sitting right and lacked the crested head. I theorized that it might be a yellow-billed cuckoo, but I really wasn't sure. When I got home and adjusted the exposure so that I could finally see its markings I discovered – we were both wrong. Trail ladies, if you read this, it's a northern flicker.
We parted ways and our family continued on our upriver hike. Steve and I chatted about a big trip we are planning for 2022 (more soon) and the kids lagged behind, dragging their little Sorel boot-clad feet and bickering. I peered through my camera viewfinder at some mallards, snapping away as we walked.
Suddenly I stopped short, gestured toward a little offshoot of the river, and whispered "Great blue heron!"
Steve didn't see him right away; he had his eyes trained on the opposite bank – but this heron, who did not care at all about the hikers on the path, was on our side of the tributary, no more than fifteen feet away. (Great blue herons are famously indifferent to people; some of their cousins, like the green heron, are much shyer.)
This guy reminded me of Gru from the Despicable Me movies. Anyone else?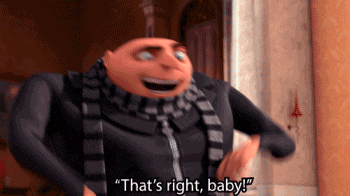 You can totally see it.
(Worth noting: I did not get all up in Gru the Heron's business to take these pictures. My bonkers wildlife camera has a 125x zoom capacity. Thanks again for the sick birthday present, Steve!)
Eventually he got tired of standing in one spot and stalked off to the opposite bank. At that point, I was ready to continue on with our hike – until Steve grabbed my arm and pointed again.
"He has something in his beak!" he said excitedly. "A fish or a crayfish or something!"
The light caught and we saw: it was a frog, a very unfortunate frog having a really, really awful day.
The heron kept dipping the frog back in the water, then pulling it out and carrying it in its beak as it stalked around the tributary. Washing the frog off? Playing cat-and-mouse with it? No idea. But it was fascinating – and a little alarming – to watch. And since he was clearly a terrifying frog predator, we changed his name from Gru to Baby Yoda.
Heh.
The kids were remarkably unfazed by their first predation event. Peanut complained about her boot the whole time and Nugget threw sticks into the water and pointed out "duck butts" every time the mallards dove for a fish.
(All pictures taken with Nikon Coolpix P1000, if you're curious.)
Quite the epic day at Great Falls! It was a good reminder – while we've been enjoying exploring all the parks near our new home, Great Falls is a favorite for a reason; must come back here again soon.